Honda 2018 Type R lands in Townsville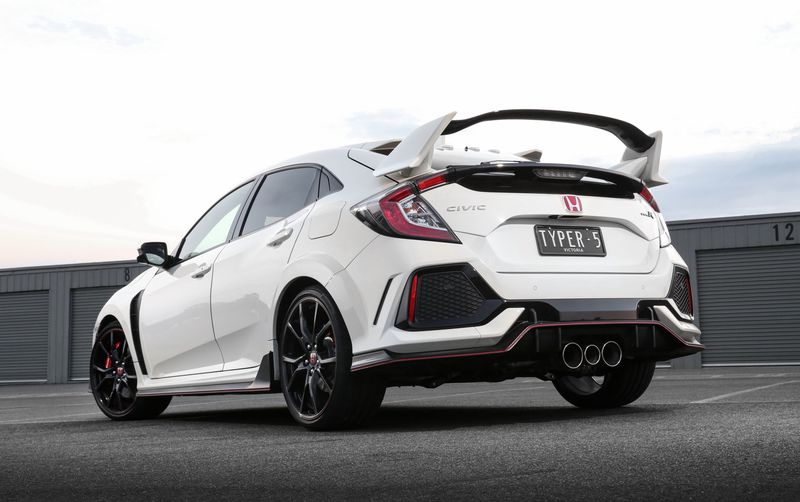 2018 Honda Civic Type R Review
Alexey Kovalenko |
The first look at Honda Type R and you can tell that the Japanese carmaker is making a statement. This gorgeous-looking hatch is the most visually aggressive one yet, thanks to massive expanses of black "vents" and a garish wing. Also, the engineers packed this Civic with lots of new and great stuff, including new suspension and steering technologies, all-new platform and chassis, an updated transmission, and a new interior.
Well, all these decisions are completely justified. As XCITE Cars reported earlier, the new Civic recently landed in Australia to find a fierce competition from Volkswagen Golf R, Subaru WRX STI, Hyundai i30 N, and Ford Focus RS. Australian drivers surely expect this hatch to be wickedly fast and playful both on road and track…
Will the 2018 redesign be enough to satisfy them?
Let's find out.
2018 Honda Civic Type R Specs
228kW/6500 rpm 2.0-litre VTEC turbo petrol engine generating 306 hp at the crank
6-speed manual gearbox
FWD
Brakes: Brembo four-wheel discs
20-inch alloy wheels • Fuel economy 10.2 l/100 km
Infotainment: Apple CarPlay, Android Auto, Bluetooth, 7.0-inch touchscreen
Cargo volume: 440 litres
Warranty: five years/unlimited kilometres
Available in only one trim
Price: $50,990
Overview
The new-generation Civic's look is dazzling. The exterior design was clearly designed with speed and aerodynamics in mind: all that flashy bodywork elements and quality plastic spoilers entice the driver to let it off the leash. The red "H" badge dominates the grille and the wheel, making it look like a sign of a true racing brand.
If you're looking for speedy cars for sale, this might be the one. The vehicle packs a powerful engine that tops out at 271 km per hour, which is more than enough for those wanting to see what this bad boy can do on the track. For that purpose, the vehicle is already in sporty RS trim (the only trim available) and is built on a lighter, tighter aluminum alloy chassis with a multi-link rear end.
Another thing you have to know that the 2018 Type R comes with a model-exclusive steering system that aims to reward the driver in all driving conditions. You'd think that a hatch with a top speed of 271 km per hour would be a torque-steering mess, but the engineers took care of it.
There are three driving modes, Comfort, Sport, and +R. All of them offer comfortable driving because the new system gets incredibly close to eliminating torque steer. Everyone who tested the Type R was highly impressive with its ability to deal with different roads with ease.
Next, the interior. The model has cloth seat trim sports seats, leather steering wheel, and a dashboard that looks a lot of the one in basic Hondas. In terms of tech, most of the needed features such as LED headlights, premium navigation and sound system are included. However, the infotainment is borrowed from the previous generation model and lacks an intuitive layout and snappy response.
The Verdict
Honda has done an excellent job with the new Type R but the price tag of $51k for the Australian market is still higher compared to many competitors including VW Golf R (starting price $37,000) and Ford Focus RS ($40,000). However, it's still worth remembering that Civic R has most of the features that are considered premium by the competitors.
Pros:
• Impressive cargo space
• Superb steering system
• Aggressive looks
• Wickedly fast
Cons:
• Outdated infotainment system
• Only one trim available