Rare 22B Subaru STI 1998 Collectors Edition for sale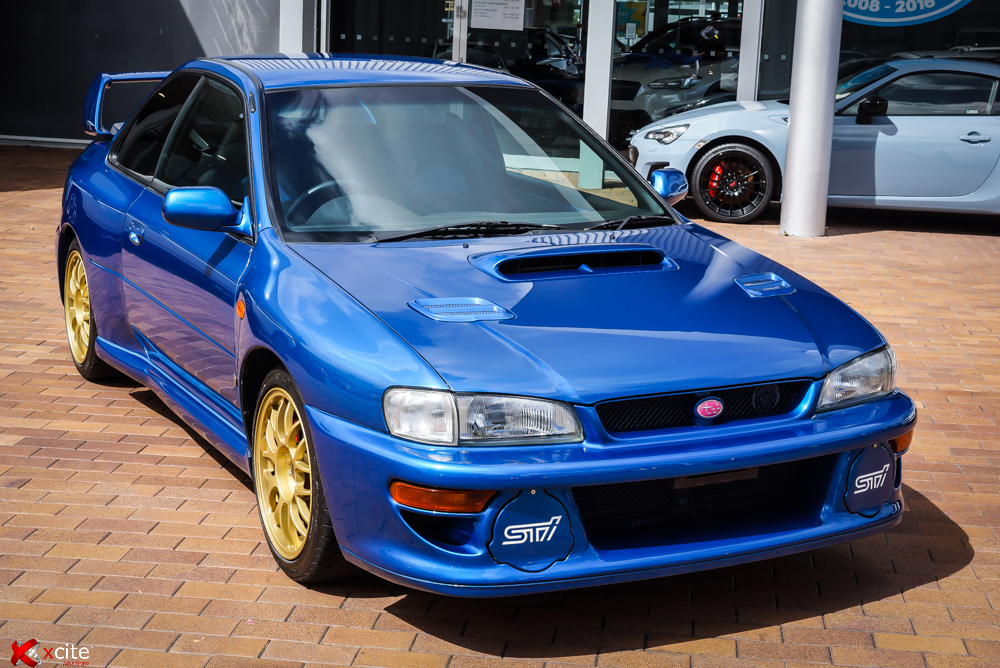 Sorry this vehicle is now Sold !
More cars like this will be coming soon!
Some information about our rare 22b that is about to hit the market in coming days...
The 22B is the most Desirable Subaru ever made with a following like no other – This car is internationally considered the Holy Grail with many famous people purchasing one of the 425 that were ever made. In Australia when New (Kerry Packer purchased one of these) Here is a recent article published In Australia about them.
This particular car is one of the 400 cars that were sold in the Japan Domestic Market – The car was imported by a private collector in 2007 where it was housed in Western Australia. The car was on sold circa 2011-2012 to another collector in his 60's where is has been stored in a large warehouse style facility along with 15 other collector cars. The owner was selling his collection to fund his retirement.
The vehicle has been used by Shannons for various marketing events for display purposes. It has also been on the Subaru Display circuit at various Subaru orientated enthusiast Events.
More Photos of the Subaru 22b STI WRX for sale
The car has travelled 81755km since new. The car is completely stock with no engine modifications whatsoever. The only modification is the head unit for the radio was updated to something more modern, (if someone wanted to put the original one in the car they can still be purchased as it was a standard across all Impreza from 1998 – 1999.
The Below is information passed on to us by the previous owner.
The Fuel Filter (in the engine bay) was replaced 700klms ago
The Oxygen Sensor was also replaced..
This version of the 02 sensor usually lasts 50,000kms…
So it should be right for sometime
DCCD
The 22B is fitted with a Driver Control Centre Differential" From Factory
Be careful playing with the settings..especially at low speeds and tight turns, it will induce binding in the Differentials.
IT IS BEST LEFT IN AUTO Mode…
FUEL/FUEL TANK
The fuel in the 22B is BP98 Octane…But it has Fuel Inhibiter mixed in with it..So Octane is reduced..
I would not NOT ALLOW any aggressive driving with this fuel…
PLUS the 22B is 20 Years old it needs to be treated with care and understanding.
The Fuel Tank may need to be Flushed if the intention is to be driven more often or regularly
The fuel Filter will need to be changed regularly if intention is to be driven more often or regularly
This is because "Scum"/material from oxidation can build up in the Fuel Tank.
The 22B 'From Factory' is fitted with a Twin Plate Clutch.
If abused (too much slipping the clutch) it will cause shuddering issues. It will take a while for the glazing to disappear.
OIL in the Engine is Castrol EDGE Synthetic 10-60 Even though the 22B was not driven much the Engine oil and Engine Oil Filter have been changed numerous times
Oil in the Gearbox (and Front Diff) as well as the Rear Diff is REDLINE Shockproof..
I believe it to be the best Extreme Pressure Gear Oil on the Market..
REDLINE is a true FULL Synthetic OIL made from a Palm Oil Base…most other "Synthetics" are made from a Mineral Oil Base…
The car comes with Brand New factory in box Black Rear Quarter Glasses and Rear Window Glass – You cannot purchase these any more from Subaru so if you were to break one there is spares to go with the car. There is also Spare Titanium Side Fender Badges if one was every stolen along with the optional 555 World Rally Team Decal Kit that was never fitted to the car but also comes with the car.
It was also an option when new to Purchase an 10,000rpm Tacho and 260kph Instrument Cluster. This comes with the car in box aswell. The original 9,000rpm 180kph Cluster remains in the car.
The car also features a Full Japanese Newspaper from the Month the car was built in Japan along with all logs books and owner's manuals and 2 original keys.
The car is in very very good condition for its age, there is a slight paint blemish that might have started from a stone chip just on the side mirror mount (not the side mirror itself) and a small 2-3mm scratch on the rear bumper. For a 20 year old car it is in very good condition. Photos can be provided.
The car features an Australian VIN Tag (additional from factory) which allowed the car to be registered in Australia. The original VIN/Engine and Gearbox numbers match up with the 22B Registery. These can be provided.
The price on the car will be $170,000 AUD this includes Sales transfer Tax in Australia and GST of 10%– If the purchaser of the car does not live in Australia there is approximately $4500 of sales transfer tax that will come off the price ($165,500) I am unsure how the Australian GST Tax would be avoided but I don't believe it can be.
The recently promoted Managing Director of Subaru Australia Nick Senior to head of Inchcape Australasia (parent company to Subaru Australia) owns a collection of Subaru performance vehicles of this vintage of which one of them is a 22B
With 30,000kms on the clock – I have known Nick for many years whilst he was MD of Subaru Australia and had many conversations about his collection as I am a passionate Subaru Enthusiast myself. Many people in Australia are aware of the car that Nick has and have offered $300,000 for this car but he will not sell.
These cars rarely come up for sale and the market has gone nuts over classic 1990's Subaru WRX performance cars, the idea of owning a 22B is a forgotten dream to most as they never come up for sale. I have tracked some resent sales and a lot of them get exported as the International demand is huge.
The 22B had a new purchase price of $132,000 AUD when it was new.
If you have any further questions let me know.
Sorry this 22b is now SOLD
Regards